Student Life and Leadership is a fast-paced, fun, flexible, and supportive environment located right in the middle of campus.
Open Positions Right Now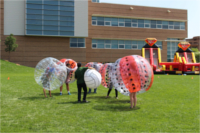 Graduate Assistant for Fraternity and Sorority Life
The Graduate Assistant of Fraternity and Sorority Life is part time position requiring twenty-five (25) hours per week. He/She/Ze is responsible for assisting in the development, implementation, administration, and evaluation of an integrated and comprehensive student life program for a diverse student community. Primary emphasis will be working with national social fraternities and sororities within the Office of Student Activities. The UCCS community is comprised of four organizations; two fraternities and two sororities, one multicultural citywide organization, one Greek governing board, Panhellenic Council and Inter-fraternity Council.